5th April 2016
Zen Now Available in 14 Languages
Zen, the CoderDojo community platform, is now available in 14 languages. Six of these languages have been added in the last two weeks. These include Turkish, Bulgarian, Greek, Estonian, Hindi, Japanese and Romanian.
The Zen platform allows members to create a Dojo and add events, join a Dojo, book tickets, manage badges, edit their profiles and use our community forums. Now members of our global community will be able to avail of these features in 14 languages. Through SM insights we know the top five languages utilised by followers are: English, Italian, Dutch, Spanish and Turkish.
The Community Platform, has been translated utilising Crowdin, a localization project management platform and translation tool. People with language skills can volunteer their expertise and time to help bring CoderDojo to a wider audience around the world.
You can help translate our community platform, enabling more languages to be added, here.
To change your language preference on Zen you can select the dropdown menu on the top-right of the page, as illustrated below.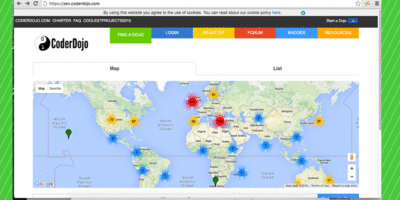 Additionally, our engineering team have been working on Zen usability. The Zen Events page has been updated, which you can see below. Adam, our Software Engineer Intern has this to say about the update:
"The Events page has been improved to make it more user-friendly. The page form is quicker to fill out with a cleaner layout for ease of use"